Historicist: Marshall McLuhan – Urban Activist
04Jun11
Every Saturday at noon, Historicist looks back at the events, places, and characters—good and bad—that have shaped Toronto into the city we know today.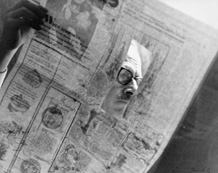 Marshall McLuhan, December 1972, photograph by Lou Forsdale
Marshall McLuhan arrived in Toronto in 1946. A devout convert to Catholicism, McLuhan taught at St. Michael's College, the University of Toronto's Catholic institution. Although he never moved away from the city, McLuhan was ambivalent towards Canada and Toronto, believing them to be smugly provincial and culturally conformist. But it was this setting, Douglas Coupland writes in Marshall McLuhan (Penguin Canada, 2009), that afforded him "a unique position to be objective about what was happening across both Lake Ontario and the Atlantic. It was a large modern city in a country unencumbered by overpowering political and religious orthodoxies….It offered a near-laboratory situation in which the effects of media could be empirically studied."
With his reputation as a media thinker growing, the University of Toronto created the interdisciplinary Centre for Culture and Technology for McLuhan in 1963. And the following year, he published Understanding Media: The Extension of Man (McGraw-Hill, 1964), his early major work on modern media. Espousing his ideas on television and in mainstream magazines like Harper's Bazaar and Look rather than academic journals, McLuhan was—as Playboy dubbed him—"the high priest of popcult and metaphysician of media."
In his work, McLuhan showed no partisan political affiliation. He addressed the Progressive Conservative Party and advised Pierre Elliott Trudeau's Liberals. "[A]llergic to Marxism," Philip Marchand writes in Marshall McLuhan: The Medium and the Messenger (Random House, 1989), the thinker "at the same time [retained] a general antipathy toward mega-corporations." Despite being admired by the 1960s counter-culture for his innovative ideas and fresh observations, the staid professor—who usually dressed in decidedly unfashionable brown tweeds and a clip-on necktie—was anything but radical. Reflecting on the 1960s, Bryan D. Palmer writes in Canada's 1960s (University of Toronto Press, 2009), "McLuhan cavalierly reduced the rebelliousness of the era to the mindlessness of youth acting out 'its identity quest in the theatre of the streets, searching not for goals but for roles, striving for an identity that eludes them.'"
So when McLuhan was prompted to political action, it was not the Vietnam War or apartheid in South Africa or other social issues of the day that were the target of his indignation. Rather, he dedicated himself primarily to environmental issues and urban affairs—especially of a highly local or personal nature.
Marshall McLuhan, ca.1936. Library and Archives Canada (PA-172791).
McLuhan was particularly alarmed by environmental degradation. At one point, Marchand notes, he petitioned Prime Minister Diefenbaker "to commit Canada to a scientific quest for ways to remove radioactive particles from the atmosphere." But most of his environmental advocacy was localized to the campus and the Toronto community he occupied. As one who frequently picked up any litter he spotted on campus, McLuhan tried to rally support for the creation of volunteer civic clean-up committees. He initiated a single-handed but determined letter-writing campaign in protest after discovering that a dirt walking path on campus had been paved over by the university administration.
He sat on numerous boards and committees during his career, including Planetary Citizens as well as a three-person commission formed in 1969 to investigate the death of 10 ducks and ducklings on Ward's Island. Holding hearings at City Hall before an audience of student groups, island residents, professors, and journalists, the commission heard testimony from a variety of experts before eventually determining that the ducks had perished as a result of exposure to pesticides used on the island. Marchand described the scene: "Some of this testimony verged on the ridiculous. The chairman of the University of Toronto zoology department, for instance, revealed that there was enough DDT in human beings to render them inedible. McLuhan enjoyed himself thoroughly."
McLuhan's most active period of urban activism came after his 1968 return to Toronto from a one-year stint at Fordham University in New York City. Upon his return, the McLuhan family—with most of their six children grown and moved out—relocated from their quiet Tudor-style house at 29 Wells Hill Avenue, near Casa Loma, to 3 Wychwood Park.
The McLuhans' home was an Edwardian mansion designed by Eden Smith (who had built his own home on the same street) in a wooded area that had been conceived as an artists' retreat at the turn of the 20th century by landscape painter Marmaduke Matthews. It was described as "baronial" by one visitor impressed by its oak paneling and high ceilings. As Marchand says, McLuhan loved the house dearly and "enjoyed showing it off to visitors with a simple-hearted pride." Intellectuals and politicians and others were frequent guests, discussing ideas at the dinner table or outside on the elegant stone terrace. "Anybody who came to visit had a tour of the park," McLuhan's daughter Elizabeth told the 
Globe and Mail
 in 2008. "Nobody left without a walk around."
It was McLuhan's ritual that he and wife Corrine walked around the park daily. McLuhan was particularly fond of the park's pond—created by Taddle Creek surfacing briefly on its southeasterly course through the city. He described the neighbourhood lovingly in a 1969 letter to a friend: "Our house is No. 3 and is the only house on a lovely pond in the heart of Toronto….The pond ripples outward into a heavily treed neighbourhood of twenty-two acres and fifty-four houses. The Park has no 'roads' or sidewalks, but simply these 'Viconean' circles of homes and people in a most unusual, dramatic relationship."
Wychwood Park deeply affected McLuhan's view of urban community. In Marshall McLuhan: Escape into Understanding (Stoddart, 1997), W. Terrence Gordon quotes McLuhan as writing:
Previously, I have only lived on streets, which sometimes have the quality of neighbourhood, but lineality is not compatible with community. The community character of Wychwood Park is a direct result of the circular compositioning of the houses, resulting from Wychwood pond. When houses interface by their circular or oval compositioning, a kind of social resonance develops that does not depend upon a high degree of social life or visiting among the occupants. Rather, there occurs a sense of theatre, as if all the occupants were, in varying degrees, on a stage. Something of the sort happens in any small village, and builders and planners could easily achieve rich community effects (even without a pond) simply by locating dwellings in non-lineal patterns."
So McLuhan and neighbours, like architect Colin Vaughan, reacted strongly when they learned that proposed concrete apartment high-rises to be built on Davenport Road, immediately south of the park, threatened their neighbourhood. After seeking guidance from Jane Jacobs, who lived nearby in the Annex, they took their fight to City Hall. Ultimately, however, McLuhan and company were unsuccessful in convincing city council to halt the plans.
Filed under: Articles, Blog Posts, Commentary, Ideas, Remembrance
|
1

Comment
Tags:
articles
,
biography
,
centenary
,
ideas
,
Toronto
---
---
Blogroll

A Man for All Media

RSS

An error has occurred; the feed is probably down. Try again later.

Tags