New Book Announcement: Marshall McLuhan & Northrop Frye: Apocalypse & Alchemy
06Feb14
Marshall McLuhan and Northrop Frye are two of Canada's central cultural figures, colleagues and rivals whose careers unfolded in curious harmony even as their intellectual engagement was antagonistic. Poet, novelist, essayist and philosopher B.W. Powe, who studied with both of these formidable and influential intellectuals, presents an exploration of their lives and work in Marshall McLuhan and Northrop Frye: Apocalypse and Alchemy.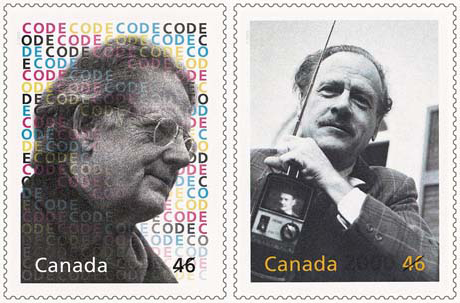 Powe considers the existence of a unique visionary tradition of Canadian humanism and argues that McLuhan and Frye represent fraught but complementary approaches to the study of literature and to the broader engagement with culture. Examining their eloquent but often acid responses to each other, Powe exposes the scholarly controversies and personal conflicts that erupted between them, and notably the great commonalities in their writing and biographies. Using interviews, letters, notebooks, and their published texts, Powe offers a new alchemy of their thought, in which he combines the philosophical hallmarks of McLuhan's "The medium is the message" and Frye's "the great code."
Contents
Acknowledgments
Prologue: The Juncture of Marshall McLuhan and Northrop Frye in 1946
Intentions and Overview, Apocalypse and Alchemy in McLuhan and Frye
Presences and Signatures: These Figures in their Ground
The Critical Conflict Between McLuhan and Frye
The Harmonies in Two Seers: Orchestrations and Complementarities
Alchemy, Synergy in the Thinking of McLuhan and Frye
The Lessons of Two Teachers: Guidance and Signs
Notes
Bibliography
Index
 Author  
  B.W. Powe is an associate professor and the Creative Writing Program coordinator in the Department of English at York University.
 Review
"Bruce Powe is a rare intellectual figure in the Canadian landscape. He has the sensibility and eloquence of a literary critic, and the power of persuasion of a cultural critic, definitely in the same league with the Canadian giants of the twentieth century." – Francesco Guardiani, Dept. of Italian, University of Toronto
Filed under: Academic, Announcement, Books about McLuhan, BW Powe, Education, Ideas, Print, Scholars
|
2

Comments
Tags:
academic
,
books
,
communication
,
culture
,
education
,
ideas
,
Toronto
,
university
---
---
Blogroll

A Man for All Media

RSS

An error has occurred; the feed is probably down. Try again later.

Tags