Mansaram at A Space Gallery, Toronto
29Apr14
Multimedia Artist Panchal Mansaram
28 MARCH – 3 MAY 2014
A Space Gallery, 401 Richmond St. W., Toronto
 SAVAC in partnership with A Space Gallery and Images Festival, Monitor Reruns brings together five Canadian artists whose works represent the last decade of Monitor
Shai Heredia, founder of Experimenta, India's first experimental film festival, has curated Monitor Reruns, an exhibition that draws from the Monitor archives. Selected works from; Nurjahan Akhlaq,  Ayesha Hameed,  P. Mansaram,  Vivek Shraya & The Torontonians.
Works by Mansaram:-
1. Devi with Pink Stuffed Goat by P. Mansaram, India, 1979 (16:17) A film collage by Mansaram, Devi with Pink Stuffed Goat reflects on two significant locales in artist's life – Mumbai and Rajasthan. He describes Mumbai as "a city in motion, collage in motion and crowd in motion." The symbols in the film hark back to his childhood in Rajasthan; as he describes, "palace, Devi, Devtas, colourful oddnees, mysticism, animal sacrifice and hunting."
3. Intersect by P. Mansaram, India, 1967 (6:06) Intersect is Mansaram's first film, which was inspired by the films of Satyajit Ray and Ritwik Ghatak. Intersect reflects his work in collage, including combining radio and television commercials with film content.
47.  Mansaram-McLuhan Interview, Audio, Toronto, 1967, (44:00)
5.  Stills & Contact Sheets from P. Mansaram's East-West Intersect, Canada, 1967.
6.  Mansaram's 12 feet long mixed media on Canvas, titled Rear View Mirror, 1967
A SpaceGallery, 401 Richmond Street W., Toronto, Suite 110,   416 979 9633   –   Gallery Hours, Tue-Fri  11-5,  Sat 12-5.
See http://www.aspacegallery.org/index.php?m=programdetails&id=701
P. Mansaram completed his studies at the State Academy of Fine Arts in Amsterdam in 1964, and has exhibited internationally ever since. He has worked extensively with Marshall McLuhan over the course of two decades, championing digital film and the photographic image, in addition to his collage work. His work is housed in the collections of the Royal Ontario Museum, Toronto, the National Gallery of Modern Art, New Dehli and the Art Gallery of Hamilton.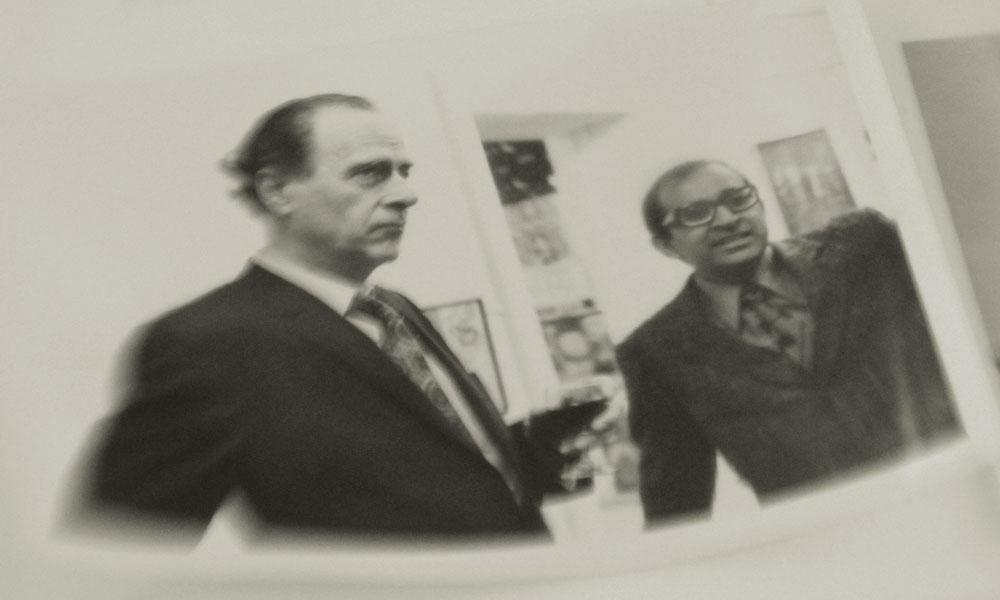 Marshall McLuhan and P. Mansaram at the opening for Mansaram's 'Rear View Mirror' exhibition at the Picture Loan Gallery in Toronto, 1974.
Filed under: Art, Events, Exhibitions, Films
|
Leave a

Comment
Tags:
art
,
communication
,
culture
,
exhibitions
,
media
,
Toronto
---
---
Blogroll

A Man for All Media

RSS

An error has occurred; the feed is probably down. Try again later.

Tags