A Review of B.W. Powe's Marshall McLuhan & Northrop Frye: Apocalypse & Alchemy
29Jun14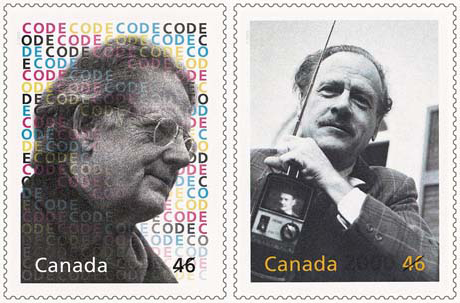 Philip Marchand (McLuhan's biographer), June 27, 2014 
One of the striking features of B.W. Powe's 1981 A Climate Charged: Essays on Canadian Writers — signalling the arrival of a distinctive voice in Canadian criticism — was that author's facility in combining erudite argument with the evocation of personality. In the 1981 book, for example, there are sharply observed portraits of Marshall McLuhan and Northrop Frye.
Powe as novelist remains more or less in the background of Marshall McLuhan and Northrop Frye: Apocalypse and Alchemy, but he does not disappear. Powe begins his study with a reference to the initial introduction of Frye and McLuhan at a meeting of the English Department of the University of Toronto in 1946, and then declares, "I like to imagine their first conversation."
Throughout this work, Powe's imagination helps to conjure McLuhan and Frye as solitary outlaws, to use a previous Powe term. The men had their different missions. McLuhan, the media guru, "wrote a detailed history of the technological future," Powe observes. Frye, the consummate literary critic, "offered up the content of our imaginations." To Frye, McLuhan was besotted by the electronic environment; to McLuhan, Frye was a library rat. But it is the argument of Powe's book that the thought of both men was ultimately complementary and converging. "Their deepest concerns were how texts (of the world, of literary invention) make us and how we in turn make and receive more meaning," Powe writes.
The undoubted difference between the two men in temperament, and their inevitable rivalry, was rubbed raw by differences in religion. McLuhan was a devout Catholic and Frye a heretical Protestant, but according to Powe, both were attuned to what Powe calls the Spirit — the pattern beyond all patterns, accessible to perceptive spiritual explorers.
Read the rest here: http://tinyurl.com/oj9pnex .
Filed under: Academic, BW Powe, Education, Ideas, Literature, Print, Remembrance, Reviews
|
Leave a

Comment
Tags:
academic
,
books
,
communication
,
culture
,
education
,
ideas
,
Northrop Frye
,
Toronto
,
university
---
---
Blogroll

A Man for All Media

RSS

An error has occurred; the feed is probably down. Try again later.

Tags