McLuhan in an Age of Social Media, Kindle Edition, by Paul Levinson
24Oct15
This essay can be considered a new chapter in my book Digital McLuhan, published in 1999, or before the advent of Twitter, Facebook, YouTube, and the social media of our age. Marshall McLuhan's ideas, including hot and cool, the medium is the message, and the tetrad, are applied to help us understand selfies, tweeting, iconic television shows such as The Sorpanos and Mad Men, the Arab Spring, the U.S. Presidential election of 2016, and the Kindle revolution itself.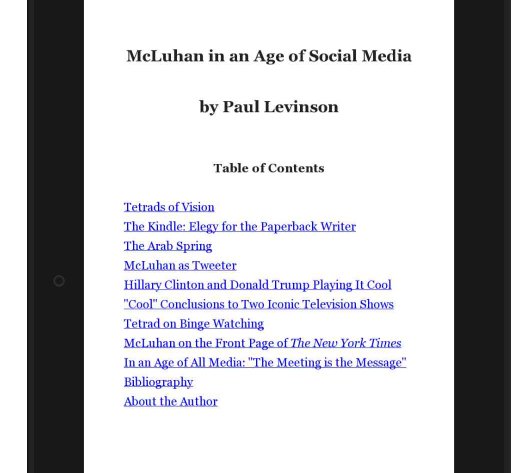 Note: If you don't own a Kindle, you can enter your mobile number or email address at this product's listing page at Amazon.com and they'll send you a link to download the free Kindle App. Then you can start reading Kindle books on your smartphone, tablet, or computer – no Kindle device required.
File Size: 1395 KB
Print Length: 16 pages
Publisher: Connected Editions (October 22, 2015)
Publication Date: October 22, 2015
Sold by: Amazon Digital Services, Inc.
Language: English
Available from Amazon.com: http://tinyurl.com/qdfwmaj OR Amazon Canada: http://tinyurl.com/q6rsvmt .
Paul Levinson's Biography
Paul Levinson, PhD, is Professor of Communication & Media Studies at Fordham University in New York City. His nine nonfiction books, including The Soft Edge (1997), Digital McLuhan (1999),Realspace (2003), Cellphone (2004), and New New Media (2009/2012) have been the subject of major articles in The New York Times, Wired, The Christian Science Monitor, and other publications and have been translated into ten languages. New New Media, exploring blogging, Twitter, YouTube and other "new new" modes of communication, was published by Penguin Academics in 2009, revised and updated in 2012. His science fiction novels include The Silk Code (1999/2012, winner of the Locus Award for Best First Novel), Borrowed Tides (2001), The Consciousness Plague (2002/2013),The Pixel Eye (2003/2014), The Plot To Save Socrates (2006/2012), Unburning Alexandria (2013), and Chronica (2014). His short stories have been nominated for Nebula, Hugo, Edgar, and Sturgeon Awards. Paul Levinson has appeared on "The O'Reilly Factor" (Fox News), "The CBS Evening News," "NewsHour with Jim Lehrer" (PBS), "Nightline" (ABC), and numerous national and international TV and radio programs. He reviews the best of television in his InfiniteRegress.tv blog, hosts popular podcasts, and was listed in The Chronicle of Higher Education's "Top 10 Academic Twitterers" in 2009.
Filed under: Academic, Books about McLuhan, Education, Ideas, Internet, Media Ecology, New Media, Scholars
|
Leave a

Comment
Tags:
academic
,
books
,
communication
,
culture
,
ideas
,
Internet
,
media ecology
---
---
Blogroll

A Man for All Media

RSS

An error has occurred; the feed is probably down. Try again later.

Tags