McLuhan Program in Culture & Technology Seminar & Workshop, November 2 & 4, Toronto
26Oct15
Inaugural Monday Night Seminar – City as Classroom
Monday, November 2, 6:00 pm to 8:00 PM
Location: The Coach House, 39A Queen's Park Crescent, St. Michael's College, University of Toronto
How do digital technologies support or hinder "community" in the city and the global village? With Lauren O'Neil, Tonya Surman, Mark Surman LAUREN O'NEIL is one Canada's most prominent young internet personalities, best known as the host of CBC News Live Online and as a trends blogger for CBC News. Her innate ability to find, share and produce interesting stories have earned Lauren a respectable following both online and off. Prior to joining CBC News, Lauren had worked as a writer, TV host and copywriter for such outlets as the Toronto Star, MTV Canada, MuchMusic, Yahoo! Canada, CosmoTV and Entrinsic. Named one of Marketing Magazine's Top 30 Under 30 "smartest young thinkers", she speakers regularly at media-centric events around the nation. 
"The future of city may be very much like a world's fair –a place to show off new technology – not a place of work or residence whatever". – Marshall McLuhan
Registration is free. Reserve a spot here: http://www.chi.utoronto.ca/events/
*****
Workshop: Museum Without Walls 
Wenesday, November 4, 2:00pm to 6:00 pm
Location: The Coach House, 39A Queen's Park Crescent, St. Michael's College, University of Toronto
Moderator: Paolo Granata, McLuhan Centenary Fellow
The workshop aims to probe and develop storytelling for the historical, artistic and cultural heritage through mobile technologies, and new forms of culture. Participants will better understand how naratives inhabits our digital world, as well as how we can use it to increase our understanding of dynamic environmental settings.
Registration is free. Reserve a spot here: http://www.chi.utoronto.ca/events/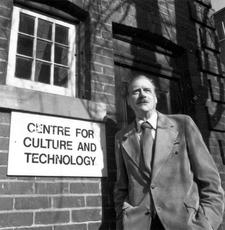 Filed under: Academic, Announcement, Education, Events, Ideas, New Media, Scholars
|
Leave a

Comment
Tags:
communication
,
culture
,
education
,
events
,
ideas
,
media
,
Toronto
,
university
---
---
Blogroll

A Man for All Media

RSS

An error has occurred; the feed is probably down. Try again later.

Tags