McLuhan Centre Spring Program Week 6: Monday Night Seminar, May 9; McLuhanWalks, May 10; Book Salon, May 11
05May16
MONDAY NIGHT SEMINAR
"The Burning Would" – Jane Jacobs & Marshall McLuhan at #Jane100
"For a burning would is come to dance inane"(FW 250.16),
MONDAY, 9 MAY, 2016, 6:00 – 8:00 PM
Jane Jacobs (1916 – 2006)
With Paul J. Bedford, Ken Greenberg, Denise Pinto
PAUL J. BEDFORD is a member and fellow of the Canadian Institute of Planners, with 45 years of experience in urban planning. As Toronto's chief city planner for eight years, he championed numerous innovative planning strategies with Jane Jacobs for the King–Spadina and King– Parliament districts, a new city-wide official plan, and a principles plan for the central waterfront, called "Making Waves," which was the basis for the creation of Waterfront Toronto.
KEN GREENBERG Greenberg is an architect, urban designer, teacher, writer, Visiting Scholar at the Ryerson University City Building Institute and Principal of Greenberg Consultants. For over three decades he has played a pivotal role in diverse urban settings focusing on the rejuvenation of downtowns, waterfronts, neighbourhoods, campus master planning and regional growth management. He is the the author of Walking Home: the Life and Lessons of a City Builder published by Random House. @KGreenbergTO
DENISE PINTO is the Executive Director of the Jane's Walk project. She has walked with Jane's Walk leaders and delivered keynote lectures in Vienna, Hong Kong and Chicago. Trained as a landscape architect, she is also an Advisory Board member for Open Streets Toronto, a Steering Committee member for Walk Toronto, and the former Chair of the Editorial Board for Ground Magazine, where she also frequently contributes. In 2012, she won a Medal of Excellence at the Royal Architectural Institute of Canada's Urban Design Awards for a project on urban agriculture. L@denisepinto
REGISTER NOW at http://goo.gl/HLTziB 
*****
SPECIAL EVENT – McLuhanWalks
Toronto in the footsteps of Marshall McLuhan 
TUESDAY, 10 MAY, 2016, 6:00 – 8:00 PM
App launch with Paolo Granata, Kate Marshall, Denise Pinto
This mobile app will take you on a tour of McLuhan's Toronto, mapping out spaces and places that were meaningful to him. Extracts from his letters, both written and read aloud, bring the city alive and provide a unique window into the life of an extraordinary Canadian. "McLuhanWalks" is a project promoted by the Urban Media Lab research initiative led by Paolo Granata, Visiting Professor and McLuhan Centenary Fellow University of Toronto, in conjunction with Digitelling and MobileMuseum research units at the University of Bologna. It aims to design and develop new forms of storytelling for the historical, artistic and cultural heritage through
REGISTER NOW at http://goo.gl/HLTziB 
*****
BOOK SALON: Counterblast Canada
University of Alberta Press, May 2016
WEDNESDAY, 11 MAY, 2016, 6:00 – 8:00 PM
With Gregory Betts, Kristine Smitka, Adam Welch
In 1914, Ezra Pound and Wyndham Lewis—the founders of Vorticism—undertook an unprecedented analysis of the present, its technologies, communication, politics, and architecture. The essays in Counterblasting Canada trace the influence of Vorticism on Marshall McLuhan and Canadian  Modernism. Building on the initial accomplishment of Blast, McLuhan's subsequent Counterblast, and the network of artistic and intellectual relationships that flourished in Canadian Vorticism, the contributor offer groundbreaking examinations of postwar Canadian literary culture, particularly the legacies of Sheila and Wilfred Watson. Intended primarily for scholars of literature and communications,
Counterblasting Canada explores a crucial and long-overlooked strand in Canadian cultural and literary
history.
Contributors: Gregory Betts, Adam Hammond, Paul Hjartarson, Dean Irvine, Elena Lamberti, Philip Monk, Linda Morra, Kristine Smitka, Leon Surette, Paul Tiessen, Adam Welch, Darren Wershler.
REGISTER NOW at http://goo.gl/HLTziB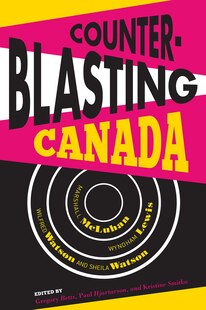 Filed under: Academic, Education, Events, Ideas, Media Ecology, Monday Night Seminar, Publishing, Scholars
|
Leave a

Comment
Tags:
academic
,
art
,
communication
,
culture
,
education
,
events
,
ideas
,
media ecology
,
Toronto
,
university
---
---
Blogroll

A Man for All Media

RSS

An error has occurred; the feed is probably down. Try again later.

Tags