Location: MSD – Münster School of Design, Leonardo-Campus 6 – Münster, Germany
Events
MSD – Münster School of Design
Date/Time:  30. November – 01. December/All Day
Keynote Speakers: Derrick de Kerckhove, Lars Elleström, Eric McLuhan and Göran Sonesson
In the era of the so-called digitalization, a variety of multimodal technologies have a great impact on the structural dimension of media and the media use of the recipient. This development has already had an enormous influence on the consumer culture, in which the relation of analog and digital media, as well as their creative, technological and sociocultural interdependence, has not been not sufficiently investigated.
So, it seems to be very important to connect aspects of design, mediality and technology with aspects of media reception to formulate productive hypotheses for academic and creative work areas. The technologization could be described as a trigger mechanism for a variety of media transformations and user dynamics, which means, that analog media are still widely spread (e.g. newspapers, magazines, books etc.) but that production methods and manners of use have changed under the influence of digitalization (e.g. digital design, digital print, digital reading, interactive apps etc.) and finally, that in some cases analog media seem to be totally replaced by digital concepts (e.g. online news portals, social media, immersive media technology, etc.).
Therefore, the different media research projects have to correlate analog and digital forms to determinate limits and possibilities of analog and digital mediality. The different topics for the conference "FURE+ The Future of Reading and Media" are very open with an interdisciplinary character and they are addressing analog and digital strategies in modern design, recent conditions of media reception in the print sector, the influence of digital reading devices on reading processes, typography in the context of digital and user-centered design, three-dimensional media in the context of virtual reality, digital image and text overlaps of reality with Augmented Reality or finally, perceptual synchronizations of media inputs and haptic, tactile, audio-visual or proprioceptive user experiences (e.g. enhanced e-books, smartphones, interactive apps, Augmented Reality reading apps for tablets etc.).
Recent media developments refer to specialized design processes, technologies and different perceptual dynamics of the user, so that it seems to be important and necessary to focus on different cross-references for an effective understanding of recent and future media. Therefore, the conference will be a forum for an interdisciplinary discussion in the range of creativity, production aesthetics, media science and other academic and scientific sectors, which are related to design, technology and media understanding.
Topics could include or address:
* the current or new role of print in the context of digitalization
* the process of reading in the context of analog and digital media
* the impact of digitalization on typography and scripture
* the relation between text and digital media
* the limits and possibilities of display technologies for images and texts
* the cognitive and bodily processes of reception or perception of media
* the technological impact on media, communication, culture, creativity and design
* the development of methods and concepts for the understanding of analog and digital media
* the history of media understanding in the range of analog and digital media
* the anthropology, phenomenology, or semiotics of analog and digital text and image media
All talks will be 30 minutes in duration plus Q&A time. Please send an abstract with a maximum of 800 words, a title of your submission, a short biography and contact details to Prof. Dr. Lars C. Grabbe via email: l.grabbe@fh-muenster.de. The deadline is March 22, 2018. Submissions will be reviewed, applying following criteria: relevance of the topic, theoretical foundation, clarity of data, adequacy of the used method(s), and matching to the overall conference topics. The conference languages are German and English. (Source: https://goo.gl/7Zqwi9 )
Münster School of Design
Filed under: Academic, Call for Submission, Conferences, Education, Ideas, Internet, New Media, Print, Scholars, Technology
|
Leave a

Comment
Tags:
academic
,
communication
,
conferences
,
culture
,
education
,
ideas
,
media
,
university
Message delivered: Tarragon to premiere long-awaited Marshall McLuhan play, The Message
The February 22, 2018 issue of the Toronto Globe & Mail newspaper reports that a play by Canadian playwright Jason Sherman titled The Message that had originally been scheduled for their 2003 – 04 season is one of the seven Canadian plays to be staged during their upcoming 2018-19 season.
It had originally been shelved because of the opposition, including possible legal action, by Marshall McLuhan's widow, Corinne.  The play speculatively depicts Marshall's condition after a massive stroke he suffered in 1979. Biographer Philip Marchand described his condition thus: "Ten days after he entered St. Michael's Hospital he underwent surgery to help restore circulation of blood to his brain. Two weeks after the operation he walked out of the hospital. He eventually regained almost complete physical mobility – but his ability to write had been annihilated." He was paralyzed on his right side. "Worst of all, he could no longer speak, except for a few odd phrases. " (Marshall McLuhan: The Medium and the Messenger, 1989, p. 281).
It is understandable that the McLuhan family would be pained by an actor fictionally depicting their husband, father and grandfather in an enacted state of relative helplessness. When I contacted Michael McLuhan to inquire about whether the Estate would oppose this latest plan for staging, he provided the following statement that represents the views of the family: "Marshall's widow, Corinne McLuhan, was appalled when she became aware of and read the script. In no way does the Estate endorse or sanction this production." However, the family has chosen not to oppose production on this occasion.
For readers with a Globe & Mail subscription or online access past their paywall, the Globe's article can be found here https://goo.gl/FDSJof 
Jason Sherman has written extensively for the stage, radio, and television. His plays include Remnants (A Fable); It's All True; Patience; Reading Hebron; The Retreat; The League of Nathans; An Acre of Time, and Three in the Back, Two in the Head, which won the Governor General's Literary Award for Drama. He served as executive story editor and writer on the TV series ReGenesis, earning Gemini and Canadian Screenwriting Award nominations. For CBC Radio he wrote "National Affairs," "Irving Invectus," and "Graf," for which he received the Canadian Screenwriting Award for radio drama. He is currently working on several television, radio and film projects. He lives in Toronto. [Sherman is Tarragon's current playwright-in-residence, a position he held to much applause for most of the 1990s.] (Source: https://goo.gl/reL4L5 ) A More extensive biography is available in the Canadian Theatre Encyclopedia: https://goo.gl/Dxayyu   
Filed under: Announcement, Articles, Commentary, Media Events, Theatre
|
1

Comment
Tags:
communication
,
culture
,
McLuhan
,
media
,
theatre
,
Toronto
Mobile Phone Evolution 1992 – 2014
This is a short excerpt from an excellent wide-ranging and philosophical essay about Marshall McLuhan, his main ideas, and mobile phones that deserves to be read in full. It is also well-written. Follow the link at the bottom to do so.
The Mobile Phone
By Peter Benson
… Let us consider some of the effects on our society of the use of the mobile phone. Walk down any street in a busy town, and you'll see many people with a phone clutched to the side of their head, talking as rapidly as they are walking. It is now possible to engage in verbal communication with other people wherever they are. This major change in human behaviour has come about within a remarkably short time, but its implications need to be considered. Many people have willingly taken this option of continuous communication; and many more have been forced to accept it as a condition of their employment. To be continuously available for work-related discussion expands the condition of being an employee beyond the boundary of office hours, and beyond the office. Non-work time becomes increasingly colonized by one's job, and the condition of subordinate employee becomes the permanent, all-encompassing condition of one's existence. Even while making a meal at home, or travelling on the bus, one might be interrupted by a business call.
In the past, people sold a certain number of hours of their day to their employer. This was the social system Karl Marx analysed in Capital. But many analysts are becoming aware that this idea has less and less relevance to the field of modern employment, and that the mobile phone is one of the major factors that has changed the nature of work. For example, the Italian radical thinker Franco Berardi, in his book The Soul at Work (2009), notes that "The cellular phone is left on by the great majority of info-workers even when they are not working." (p.89). As a consequence: "Cellular phones realize the dream of capital: that of absorbing every possible atom of time at the exact moment the productive cycle needs it. In this way, workers offer their entire day to capital and are paid only for the moments when their time is made cellular… They prepare their nervous systems as an active receiving terminal for as much time as possible." (p.90)
These changes enabled by the mobile phone are merely social: they do not yet reach to the level of effect upon our psyche with which McLuhan's theories are concerned. However, to the obligatory use of the phone in employment, we must add the extensive voluntary use of it in daily life. Among the people we pass in the street, many are chattering, not to work colleagues, but to friends, spouses, or lovers. They are willingly enacting a condition of permanent connectedness: a continuous co-habitation with others, following them through the byways of their days. The cellular phone in handbag or pocket unites them umbilically to their network of social contacts. This is a condition unprecedented in human history.
McLuhan was correct in discerning tendencies to try to re-establish aspects of village life in the modern world. Villages are notable for human proximity, nosiness, suspicion, and lack of privacy. This trend reverses the development, in the industrial age, of anonymous, isolated, secretive city dwelling. Separation from the pack has never been so rare for human beings as it is in the mobile/Internet age… Read the rest at https://goo.gl/JZ9asj.
Peter Benson currently works in a public library in London, whose future is under threat. He has a degree in Philosophy, a subject which is under threat in British universities. He cannot be reached by mobile phone.
Filed under: Academic, Articles, Commentary, Ideas, Media Ecology, New Media, Theory
|
2

Comments
Tags:
academic
,
articles
,
communication
,
culture
,
global village
,
ideas
,
Internet
,
media ecology
Donald Theall, born in Mount Vernon, New York, took his B.A. from Yale University in 1950, and his M.A. and Ph.D. from the University of Toronto in 1951 and 1954. He rose through the ranks from Lecturer to Professor at Toronto from 1953 to 1965, being Chairman of the Combined Departments of English there in his final year. In 1962 he edited and annotated selected poems of Pope for the last print edition of Representative Poetry.
After becoming Chairman and Molson Professor, Department of English, McGill University from 1966 to 1973, and then Founding Director and Molson Professor, Graduate Program in Communications, from 1974 to 1980, Theall joined Trent University in Peterborough as President and Vice-Chancellor from 1980 to 1987, University Professor from 1987 to 1994, and University Professor Emeritus from 1994. During this period he served on the Board of Directors, International Communication Association (1979-81), as Founding President, Canadian Communication Association (1978-80), as First Cultural Exchange Professor, Canada to the People's Republic of China (1974), and as Co-Director, National Film Board of Canada/McGill University Summer School on Media (1967-71).
He has published widely on communication theory, Marshall McLuhan, poetic theory, James Joyce, T. S. Eliot, Wyndham Lewis, Science Fiction, Film Theory, Alexander Pope, satire, Harold Innis, virtual reality (VR), and Cyberspace, including "Beyond the Orality/Literacy Dichotomy: James Joyce and the Pre-history of Cyberspace" in Postmodern Culture (1992). His recent books include The Virtual Marshall McLuhan (McGill-Queen's University Press, 2001), James Joyce's Techno-Poetics (University of Toronto Press, 1997), Beyond the Word: Reconstructing Sense in the Joyce Era of Technology, Culture, and Communication (1995). He has also guest-edited a Special McLuhan issue of the Canadian Journal of Communications in 1975 with G. J. Robinson and has published The Medium is the Rear View Mirror: Understanding McLuhan (McGill-Queen's University Press, 1971).
A pioneer in computing in the humanities, Donald Theall has made an extraordinary contribution to literature on-line with his Web version of James Joyce's Finnegans Wake and Ulysses. (Source: https://goo.gl/MCVRWH)
As a tribute to his contributions to education over the years, Dr. Theall was presented with a Doctor of Sacred Letters, honoris causa from the University of St. Michael's College in 2006. Dr. Theall joined Trent University as president and vice-chancellor from 1980 to 1987. He stayed on at Trent as a professor until his retirement in 1994, when he was granted the title of professor emeritus. Following a brief illness, Dr. Theall died at the Peterborough Regional Health Centre on Wednesday, May 14, 2008.
Donald Theall (L) & Marshall McLuhan at St. Michael's College, 1955
Filed under: Academic, Biography, Education, Literature, Media Ecology, Remembrance, Scholars, St Michael's College
|
2

Comments
Tags:
academic
,
biography
,
communication
,
culture
,
education
,
media ecology
,
Toronto
For beginners studying Marshall McLuhan's ideas, I usually recommend that they read the famous Playboy interview (1969) in which he is resolutely cogent and unambiguous for a non-academic reading audience, proving that he could be that when he wanted to be. You can download a PDF of it here https://goo.gl/13QXas.  Second, I recommend that they read his The Medium is the Massage (1967) in which he explains many of his ideas in a simplified and illustrated manner. But, if you want to read from secondary sources, here are three that I can recommend which happen to all be by the same author.
McLuhan for Beginners 
By W. Terrance Gordon
Marshall McLuhan pioneered the study of the media and is now making a comeback, despite the fact that he died in 1980. McLuhan was a professor of English who loved James Joyce, hated television, played himself in Woody Allen's Annie Hall, and fired off ideas like a machine gun. If he were alive today, he would want to continue infuriating a world moving into the 21st century with 19th-century perceptions. This book is described as a "documentary comic book" that explains his ideas but doesn't take itself too seriously. (Source: https://goo.gl/iRYw7X)
Everyman's McLuhan
By W. Terrance Gordon
Anyone who has ever considered media and its relation to humanity has most likely heard the name Marshall McLuhan. Famous for his adages, he was a careful student of 20th-century media, and a prolific lecturer and author. Unquestionably, McLuhan's writings are important, but all too often impenetrable. As technology speeds ahead and forces us to reconsider our relationship with it, McLuhan's career merits a creative and accessible examination. W. Terrence Gordons Everyman's McLuhan does just that. As McLuhan's official biographer, Gordon is the perfect man to decipher the more confusing and problematic aspects of the McLuhan legacy. By applying McLuhan's ideas and theories to the realities of 21st-century technology and media, like phones that play films and computer chip implants, Everyman's McLuhan fosters a dialogue that was important when McLuhan was alive, but is even more relevant today as the line blurs between humans and the technologies we use regularly. (Source: 
https://goo.gl/yw7vLH
)
Presented in the visual and print manner of The Medium is the Massage, this book is extensively illustrated throughout.
McLuhan: A Guide for the Perplexed
By W. Terrance Gordon
Marshall McLuhan was dubbed a media guru when he came to prominence in the 1960s. The Woodstock generation found him cool; their parents found him perplexing. By 1963, McLuhan was Director of the Centre for Culture and Technology at the University of Toronto and would be a public intellectual on the international stage for more than a decade, then linked forever to his two best-known coinages: the global village and the medium is the message.
Taken as a whole, McLuhan's writings reveal a profound coherence and illuminate his unifying vision for the study of language, literature, and culture, grounded in the broad understanding of any medium or technology as an extension of the human body. McLuhan: A Guide for the Perplexed is a close reading of all of his work with a focus on tracing the systematic development of his thought. The overriding objective is to clarify all of McLuhan's thinking, to consolidate it in a fashion which prevents misreading, and to open the way to advancing his own program: ensuring that the world does not sleepwalk into the twenty-first century with nineteenth-century perceptions. (Source: https://goo.gl/nFofMQ. The format of this book is all text with no illustrations or visual elements.
W. Terrence Gordon is Professor Emeritus at Dalhousie University, Halifax, Nova Scotia, Canada and Part-time lecturer in Linguistics at St. Mary's University, Halifax. He is the author of the three titles on McLuhan and the editor of the critical editions of his Understanding Media (2003), McLuhanUnbound(2005), and The Classical Trivium: The Place of Thomas Nashe in the Learning of his Time (2006). His McLuhan for Beginners brought him the invitation from the McLuhan family to write his biography: Marshall McLuhan: Escape into Understanding, critically acclaimed in The New York Times and many other sources. Professor Gordon is also the librettist of a multimedia opera about McLuhan.
Filed under: Academic, Books about McLuhan, Commentary, Ideas, Media Ecology, Technology, Theory
|
2

Comments
Tags:
academic
,
books
,
communication
,
culture
,
ideas
,
media ecology
,
technology
for Youth Arts, Manifesto, Toronto 2012. Photo by Leah Snyder
Art as Survival Thrival in the Electric Digital Age
"The job of the artist is to upset all the senses and thus provide new vision and new powers of adjusting to and relating to new situations."
These are the words of Marshall McLuhan given in a lecture at Columbia University way back in 1973 on the theme of "Art as Survival in the Electric Age."
McLuhan understood the tremendous societal influence that the artist can have when they put action behind their vision.
As we inhabit a world that has truly become the McLuhanian Global Village the isolation that can often accompany strength of vision is being eroded away by technology that allows the artist to connect with their muse, locate their tribe and readily receive affirmation from a participatory audience.
When you mix globalization, democratization of technology and creative minds who see colour where others see gray there is incredible potential for radical shifts.
And more than any other time in history there is a breed of creators who travel past both conceptual and cultural boundaries. A new world is being designed in the minds of artists and assembled by the hands of everyone working together with a shared vision for a different kind of world.
MIXED BAG MAG proclaims 2013 to be the year of the artist. It is the year where the cultural trickster, the music maker, and the one who dances to the beat of a different drum will be the agent of change. [Looking back on 2013, I have to ask -was it? Informed opinions and comments welcomed.]     Source: https://goo.gl/AWvHfV
media painting by Chiko Chazunguza –  Photo by Leah Snyder
"If men were able to be convinced that art is a precise advance knowledge of how to cope with the psychic and social consequences of the next technology, would they all become artists? Or would they begin a translation of new art forms into social navigation charts? I am curious to know what would happen if art were suddenly seen for what it is, namely, exact information oh how to rearrange one's psyche in order to anticipate the next blow from our own extended faculties."
For more quotes on art and artists see https://goo.gl/Qd35aE
Filed under: Art, Articles, Commentary, Future, Ideas, Media Ecology, Quotes, Technology
|
1

Comment
Tags:
art
,
articles
,
communication
,
culture
,
ideas
,
media ecology
,
technology
St. Michael's College at the University of Toronto introduces the McLuhan Seminar in Creativity and Technology
Offered for the first time in 2018-2019, The McLuhan Seminar is an exploration of the relationship between creativity and technology.Marshall McLuhan (1911-1980), one of the most charismatic and wide-ranging thinkers of the 20th century, taught at St. Michael's College from 1946 until his death in 1980. The Seminar is inspired by McLuhan's innovative thinking. First-year students in the Faculty of Arts & Sciencc at the University of Toronto will explore how the humanities relate to other fields of thought in addressing the individual, social, and cultural experiences and effects of technological innovation.
University of Toronto / St. Michael's College Professor Paolo Granata, an expert on McLuhan's work, will teach the course, which also includes a one-week international learning experience in Silicon Valley. While visiting some of the legendary global symbols of world-changing innovation and the creative giants of the world's tech economy, this course will take an experimental approach to the following research question: "How can we make innovation and creativity play a role in the development of humanities research for a critical interpretation of the role of technology in today's world and in the future?"
The McLuhan Seminar introduces to university-level studies on a small scale, with first-year students who share interest in creativity, technology, and international experience. Students from different disciplines will experiment with interdisciplinary and critical thinking, access path-breaking new research, and engage with some of the most popular, profitable, and recognized sources and sites of human connectivity today.
Ultimately, the McLuhan Seminar in Creativity and Technology will provide students with a toolbox for creative learning and future research connections.
Professor Paolo Granata
Scholarships will be awarded to successful applicants.
What is the course?
SMC155H1, the McLuhan Seminar in Creativity and Technology, is a half-course worth 0.5 credits. It will be offered in Winter 2019. The course consists of lectures, seminar discussions, guest speakers, and a one-week international learning experience in Silicon Valley. Students will explore how creativity makes innovation possible and influences our individual and social responses to technological change.
Possible Course Reading List
Some of the material you'll be reading could include selections from:
Marshall McLuhan's Laws of Media: The New Science and Take Today: The Executive as Dropout
Adam Grant's Originals: How Non-Conformists Move the World, a book about recognizing good ideas, facing doubt, and choosing how and when to act
Walter Isaacson's bestselling biography Steve Jobs
Ashlee Vance's Elon Musk: Tesla, SpaceX, and the Quest for a Fantastic Future, a biography that explores the role of inventors and entrepreneurs in the global market
Timothy Ferriss' Tools of Titans: The Tactics, Routines, and Habits of Billionaires, Icons, and World-Class Performers
Silicon Valley (HBO TV series)
Planned Silicon Valley Visit
The course includes a one-week international learning experience in Silicon Valley over Reading Week 2019, February 18 to 22. Students will visit some of the legendary global symbols of world-changing innovation and the creative giants of the world's tech economy.
Good news. All students admitted to the McLuhan Seminar in Creativity and Technology receive room and board at no cost. Students are responsible for their own airfare and incidentals.
In advance of the trip, enrolled students will receive more detailed information and also safety training and other preparation. Additional information at https://goo.gl/hmVCeY.
About Professor Paolo Granata https://goo.gl/bqF8Wc
Marshall McLuhan(James Joyce to his right), from the William McElcheran sculpture located outside the Kelly Library at St. Michael's College.
Filed under: Academic, Announcement, Education, Ideas, Media Ecology, St Michael's College, Students, Technology
|
1

Comment
Tags:
academic
,
communication
,
culture
,
education
,
media ecology
,
technology
,
Toronto
,
university

(Click on the image for an expanded view)
As a part of the McLuhan Salons series, this panel discussion will explore the role of public organizations such as universities, civic institutions, and local communities in supporting the urban sustainable development.
Featured speakers:
Siri Agrell, Director of Strategic Initiatives City of Toronto
Jean-Paul Addie, Urban Studies Institute Georgia State University
Kofi Hope, Executive Director CEE Centre for Young Black Professionals
Opening remarks: Paolo Granata, University of Toronto
Moderator: Shauna Brail, University of Toronto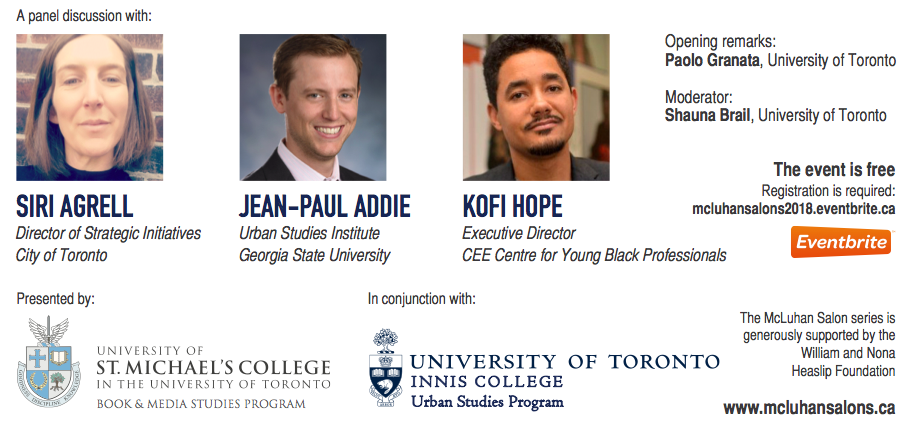 Date & Time: Wednesday, February 7, 2018, 6:30 PM – 8:30 PM (Doors open at 6:15 PM)
Location: Innis Town Hall, Innis College, University of Toronto, 2 Sussex Avenue (near corner of St. George Street & Sussex Avenue)
The event is free and open to the public. Please register online at: https://mcluhansalons2018.eventbrite.ca
Siri Agrell is the Director of Strategic Initiatives for Mayor John Tory, where she oversees files including the Waterfront and Quayside, the King Street Pilot project, government modernization and innovation. She previously served as Deputy Director of Communications for Premier Kathleen Wynne and worked as a journalist for more than a decade, most recently as the Globe and Mail's Urban Affairs Reporter. She founded Real City Matters, a debate series on Toronto issues during the 2014 municipal election and co-founded TypeFace, a literary portrait project benefitting the Toronto Public Library Foundation.
Jean-Paul Addie is an Assistant Professor in the Urban Studies Institute at Georgia State University. He was previously a Marie Curie Fellow and Lecturer at University College London, and holds a PhD in Geography from York University. Jean-Paul's current research examines how universities are adapting their institutional structures, pedagogies, and spatial strategies in response to the demands of contemporary urban society. His work on rethinking the urban university has been published in international academic journals including Regional Studies, CITY, and Urban Affairs Review, and in policy reports for UN Habitat and The British Council. You can follow him on Twitter @JP_Addie
Kofi Hope is a Rhodes Scholar, Doctor of Philosophy in Politics, community activist and youth advocate. He has over 15 years of experience in managing community based programs. Kofi was the 2017 winner of the Jane Jacobs Prize, for his work improving the City of Toronto. In 2005 he founded the Black Youth Coalition Against Violence, a group which advocated for real solutions to the issue of gun violence. This advocacy work included a presentation for then Prime Minister Paul Martin and led to him being named one of the Top Ten People to Watch in Toronto in 2006 by the Toronto Star. Currently he is the Executive Director of the CEE Centre for Young Black Professionals (CEE) a non-profit which creates economic opportunities for Black youth in Toronto. He has delivered over 100 speaking engagements in Canada and the UK, was co-chair of Olivia Chow's election advisory committee in 2014 and is a member of the Board of Directors for the Atkinson Foundation and Toronto Environmental Alliance. Kofi has been featured widely in the Canadian media including: Metro Morning, Canada AM, TVO's The Agenda, Ontario Today, The Toronto Star, The Globe and Mail, The National Post and CP24. A global traveler he has visited 22 countries around the world and calls Toronto Ontario home.
* * * * *
The McLuhan Salons series is an initiative of the St. Michael's College in the University of Toronto, in conjunction with the Estate of Marshall McLuhan and several high-level academic and cultural institutions, and generously supported by the William and Nona Heaslip Foundation.
The McLuhan Salons aims to position the city as instructive in rethinking the larger interconnected global village, looking for metaphoric meanings of our urban homes and communities in a "classroom without walls".
Each McLuhan Salon will be open to the public, will commence with moderated probative discussion within a panel of top leaders and thinkers, and will engage the audience.
Filed under: Academic, Announcement, Education, Ideas, McLuhan Salons
|
1

Comment
Tags:
communication
,
culture
,
education
,
ideas
,
Toronto
,
university
The Medium Is the Message
Broadcast on BBC Radio 4, January 20, 2018, 8PM (3 PM EST North America)
Generation X author Douglas Coupland explores the ideas, sound, and vision of media seer Marshall McLuhan who in the 1960s coined the phrases "the medium is the message" and "the global

 village".
Marshall McLuhan was the first great prophet of what would become digital mass media and indeed the global media village – a thinker and writer of near supernatural foresight.
Trained as a literary scholar, throughout his career McLuhan not only examined the relationship between form and content in the media itself, offering dazzling arguments for the importance of medium over content, but anticipated the very idea of online networks, virtual reality, multiple interfaces, social media and most importantly of all, how new technologies rewire us by stealth, endlessly transforming our identities and our communities. "We shape our tools and thereafter our tools shape us," he said [Correction: The phrase was coined by John Culkin, SJ but represented an idea originated by McLuhan.]
Drawing on cutting-edge thinking about networks and cybernetics, McLuhan foresaw a fully wired, connected world, which would bring to an end the isolated consumption of print. New cross-border (effectively online) communities would form, breaking old political barriers, creating genuinely new kinds of electronic identity. But with this McLuhan offered a warning: older ideas of privacy and the self would evaporate under new media he said, leading to the rise of what he called 'discarnate' man – the lost, disembodied user extended across an unrelenting, unforgiving electronic global nervous system.
McLuhan's ideas seem more prescient than ever. As Douglas Coupland puts it: 'The future has never happened so quickly, to so many people, in such an extreme way – just as Marshall predicted, an uncanny prophet of our own digital age.'
Contributors include novelist Tom McCarthy, DJ Spooky, Andrew McLuhan, biographer Philip Marchand, the media theorists Shannon Mattern and Bernard Dionysus Geoghegan, Zak Kyes the graphic designer, philosopher James Garvey, filmmaker Jonathan Meades and former network engineer Tung-Hui Hu, who has written on McLuhan and 1970s guerrilla television.
Presenter: Douglas Coupland
Producer: Simon Hollis                                                                                                                     Brook Lapping production for BBC Radio 4.
Source https://goo.gl/Yo7J5r
LISTEN TO THE 57 Minute Radio PROGRAM HERE: https://goo.gl/WVoFJj
Douglas Coupland
Filed under: Audio, Commentary, Douglas Coupland, Ideas, Internet, Media Ecology, New Media, Technology
|
Leave a

Comment
Tags:
communication
,
culture
,
ideas
,
Internet
,
media ecology
,
technology
Superman, Supergirl & Krypto (Art by Curt Swan, 1962)
McLuhan's Cool Comics
by Guy Leshinski   –   Sept. 28, 2005
In his first book, 1951's The Mechanical Bride, McLuhan reproached the Man of Steel, calling Superman's crime-fighting tactics "the strong-arm totalitarian methods of the immature and barbaric mind." He was more favourable a few years later when surveying the medium as a whole. He devoted an entire chapter of his seminal book Understanding Media: The Extensions of Man to unpacking the intangible ways comics ape and infect our culture. (Marymount Manhattan College professor Kent Worcester and Toronto writer Jeet Heer include this chapter in their erudite anthology
Arguing Comics.)
 Superman Cover, Oct. 1967
McLuhan saw comics as extensions of the woodcut and photographic media, "a world of inclusive gesture and dramatic posture."
"[T]he modern comics strip and comic book," he wrote, "provide very little data about any particular moment in time, or aspect in space, of an object. The viewer, or reader, is compelled to participate in completing and interpreting the few hints provided by the bounding lines." These are qualities of what McLuhan termed "cool" media, lo-fi creations that force us to fill in the blanks. They contrast with "hot" media like film, which make the viewer "a passive consumer of actions." Comics, in his words, are cool.
He scrutinized Mad magazine, which, at the time Understanding Media was published in 1964, was hitting its stride as an agent of screwball subversion. To McLuhan, Mad was "a ludicrous and cool replay of the forms of the hot media of photo, radio and film."
"Mad is a kind of newspaper mosaic of the ad as entertainment, and entertainment as a form of madness." It exploited the fact that ads, according to McLuhan (who considered Hollywood movies ads for popular culture), were "not meant for conscious consumption," so that "any ad consciously attended to is comical."
"The comic strip and the ad, then, both belong to the world of games, to the world of models and extensions of situations elsewhere."
McLuhan clearly had a soft spot for funnybooks. He contrasted the genteel fine-art world with popular art like comics, "the clown reminding us of all the life and faculty that we have omitted from our daily routines." He saw in Al Capp's classic strip Li'l Abner and its "predicament of helpless ineptitude" a "paradigm of the human situation, in general." And he cautioned that the rise of television, an even more inclusive medium, devalued comics as purveyors of far-flung drama.
All this came decades before the growth of the graphic novel and the Western embrace of comics stories and techniques from France, Japan and elsewhere. McLuhan studied the nascent comic form, its melding of words and pictures, divorced from its content — which he argued was a medium of its own.
In this way, comics haven't changed in the time since McLuhan published his definitive works. His theories are as provocative to the comics fan as they are to the technophile, even if, like the medium itself all these years, his writing on comics is mostly ignored. (Source: https://goo.gl/2M1Uqu)
**********
The best book by far for understanding comics is Scott McLeod's Understanding Comics: The Invisible Art (1993), which was, as acknowledged by its title, influenced by Marshall McLuhan.

Understanding Comics: The Invisible Art is a comic (a graphic novel technically) on everything about comic. First published in 1993, it is one of the most famous works of Scott McCloud, American comic artist and author. In this book, McCloud digs deep into almost all comic aspects: the history, vocabulary, the underlying principles, the various elements and how they work. It presents detailed graphical explanation on comics as a form of art and communication medium.
Since its publication, Understanding Comics has gained huge success commercially and critically. Well-known comic and graphic novel authors and artists such as Neil Gaiman, Will Eisner, Alan Moore, Garry Trudeau, and Art Spiegelman expressed their praises for this seminal work of McCloud's.
Providing abundant knowledge into the world of comic (and graphic novel), from the definitions, history, technicalities, theories, methods, concepts, styles, elements, and many others, Scott McCloud's Understanding Comics: The Invisible Art has become one of the most important and influential works in the modern comic industry.    ( https://goo.gl/9Z89xJ )
Here's a sample of the book's approach as read aloud by a Mr. Koch:
Part I of Scott McCloud's "Understanding Comics."
Filed under: Articles, Audio, Comics, Commentary, Ideas, Media Ecology, Theory, Video
|
1

Comment
Tags:
academic
,
articles
,
Comics
,
communication
,
culture
,
ideas
,
media ecology
,
video