From left to right: Dr. Michael Darroch, Philip Morais, Andrew McLuhan, & Dr. Elaine Kahn
"The electric light is pure information." –Marshall McLuhan, Understanding Media
Philip Morais[1]– Windsor Law J.D. Candidate 2021
On October 25, 2019, Windsor Law LTEC Lab and the School of Creative Arts co-hosted Media & Space: The Regulation of Digital Platforms, New Media & Technologies Symposium. It was an interdisciplinary event launched in the multimedia studio of the Alan Wildeman Centre for Creative Arts, whose high ceilings spanned from a control booth in the back to a front wall projection screen, holding speakers and attendees from Canada predominantly, with representation from America and Europe. The conference gathered fourteen speakers to discuss how spatial aspects of media, which Marshall McLuhan thought through,[2] might be a point of departure and/or a point of arrival for informing regulatory structures in the realm of digital platforms, borders and borderless states, as well as what role can Canada play in the "global village"[3] of today. What dialogue, simply put, do legal systems and media ecosystems need to be in to balance each other out in this flux of the digital sublime?
Who was Marshall McLuhan? The quintessential question would be instead, why is this someone who matters to an interdisciplinary investigation of technological regulation? McLuhan was a Canadian professor of English who spent most of his career at St. Michael's College in the University of Toronto. His contribution to intellectual history in the mid-twentieth century was not as a communication theorist[4] but as a metaphysician[5] and critic-as-artist[6] whose translation of techniques of literary criticism to techno-cultural subject matter was revolutionary, crystallized in "the medium is the message"[7] aphorism. That phrase became a part of popular culture in the 1960s, a decade he was associated with and defined as a figure often on television.[8] Notwithstanding, his private life was shaped in the 1930s when he left Cambridge University to be an academic, Catholic, and husband to Corrine Keller Lewis whom he had six children with and remained married to until he died on December 31, 1980. Some in academia subsequently reasoned he was one of the many scholars of the "Toronto School of Communication"[9] at that time. His distinguishing insights and anticipations[10] went from opaque to obvious in the 1990s, however, when an advent of the World Wide Web retrieved interest in him.
The first panel, "McLuhan in Space, Local and Global," consisting of three keynote speakers, lent historical weight to the conference. "Marshall McLuhan is an organizing principle more than anything else because, after all, he is one of the pioneers of this thing we now call media study," grandson Andrew McLuhan offered, Director of The McLuhan Institute, adding immediately in his address, which made an argument by analogy to the past precedent of regulation of the natural environment and pharmaceutical industry in the United States, "There is no difference between environmental science and media study …. Why do we thoroughly study and regulate drugs for safety and efficacy but not technologies?"[11] Dr. Michael Darroch, Associate Professor of Media Arts and Culture in the School of Creative Arts quoted James Dean playing Jim Stark in the film Rebel Without A Cause to tease out user experience on social media: "We're all involved!" His presentation contextualized time Marshall McLuhan had spent on the Windsor-Detroit border as a professor of English at Assumption College from 1944 through to 1946 as a "transformative moment". As McLuhan himself suggests in "Canada: A Borderline Case" a "border is not a connection but an interval of resonance",[12] a dialogue, a dynamic of figure and ground shifting constantly nationally. Digital platforms do likewise to the body of the user by being an environment bordered by software executing calculations, an extension of the nervous system according to McLuhan who classified all electricity-based technology to be performing such functions;[13] atmospheric dimensions of their online access further suggests an extension of the respiratory system by the same logic, breathing in and out information, off and on. Dr. Elaine Kahn returned to this "resonance" theme by way of the body politic of the more recent past. The author of Been Hoping We Might Meet Again elaborated upon correspondence between Prime Minister Pierre Elliott Trudeau and McLuhan from 1968 to 1980. In reply to the question of whether or not the latter is the inspiration for including "other media of communication" among enumerated fundamental freedoms in s 2(b) of the Canadian Charter of Rights and Freedoms, Kahn opined: "Well, I can't imagine how he could've been."[14]
Continue reading a description of the second, third and fourth panels, the last of which was about media ecology, as well as the complete endnotes and references, go to this link: https://tinyurl.com/umbhs3v
References 
---
[1] Co-Organizer of the Symposium with Dr. Pascale Chapdelaine, Dr. Michael Darroch, and Dr. Vincent Manzerolle It was an honour to represent Windsor Law by chairing one of the many excellent panels, as well as to work with and learn from my fellow conference organizers, to whom I wish to express gratitude. All errors are mine in the interpretation of the Symposium. The conference sprung from initial communications I had with Andrew McLuhan, which began on August 8, 2018. Thank you, Andrew, for everything your yes made possible!
[2] Edmund Carpenter & Marshall McLuhan, "Acoustic Space" in Edmund Carpenter & Marshall McLuhan, ed, Explorations in Communication: An Anthology (Boston: Beacon Press, 1960) at 67: "Auditory space a sphere without fixed boundaries, space made by the thing itself, not space containing the thing. It is not pictorial space, boxed in, but dynamic, always in flux, creating its own dimensions moment by moment." (Dr. Michael Darroch and Dr. Janine Marchessault, in conjunction with students and researchers at U. of Windsor and York U., annotated an anniversary new edition of the eight co-edited editions of Explorations collected in this book that is available at: https://wipfandstock.com/explorations-1-8.html); see generally Richard Cavell, McLuhan in Space: A Cultural Geography (Toronto: University of Toronto Press, 2002).
[3] Marshall McLuhan, The Gutenberg Galaxy: The Making of Typographic Man (Toronto: University of Toronto Press, 1962) at 31: "The new electronic interdependence recreates the world in the image of a global village."; see especially Eric McLuhan, "The Source of the Term 'Global Village' " (9 July 1998) in Francesco Guardiani & Eric McLuhan, ed, McLuhan Studies 1:2, online: McLuhan Studies <http://projects.chass.utoronto.ca/mcluhan-studies/v1_iss2/1_2art2.htm&gt; [perma.cc/6HBF-ACTC]; but see Andrew Chrystall, "After the Global Village" (2011) 9:1 Canadian Journal of Media Studies, online (pdf): <https://cjms.fims.uwo.ca/issues/09-01/Chrystall.pdf&gt; [perma.cc/Q48A-58JA].
[4] Eric McLuhan, "Marshall McLuhan's Theory of Communication: The Yegg" (2008) 1:1 Global Media Journal at 25: "As he often said, Marshall McLuhan did not have A Theory of Communication …. he didn't use theories in his work."; contra Michael Darroch, "The Toronto School: Cross-Border Encounters, Intellectual Entanglements" in Peter Simonson and David Park, eds, The International History of Communication Studies (London: Routledge, 2016) at 278: "The political economist Harold Innis and English scholar Marshall McLuhan are best known for advancing theories about the specificity of media and the function of communications technologies in effecting social change, an approach often criticized as overly deterministic." (whether or not theory was engaged and whether or not contribution was made as a theorist are separate but related issues, which must be engaged simultaneously for context).
[5] Letter from Marshall McLuhan to Joe Keogh (6 July 1970), Ottawa, National Archives of Canada (H.2065/1434–5): "I am not a "culture critic" because I am not in any way interested in classifying cultural forms. I am a metaphysician, interested in the life of the forms and their surprising modalities."
[6] See Donald F. Theall, "McLuhan as Modern Satirist" in The Virtual McLuhan (Kingston: McGill-Queen's University Press, 2001) at 187-201.
[7] Marshall McLuhan, Understanding Media: The Extensions of Man (New York City: McGraw-Hill, 1964) at 7: "In a culture like ours, long accustomed to splitting and dividing all things as a means of control, it is sometimes a bit of a shock to be reminded that, in operational and practical fact, the medium is the message. This is merely to say that the personal and social consequences of any medium -that is, of any extension of ourselves- result from the new scale that is introduced into our affairs by each extension of ourselves, or by any new technology." ["Understanding Media"]; see Eric McLuhan, "The Fordham Experiment" (2000) Proceedings of the Media Ecology Association, Volume 1, 2000 23; see Herbert Krugman, "Brain Wave Measures of Media Involvement" (1971) 11:1 Journal of Advertising Research 3; see generally Maryanne Wolf, Proust and the Squid: The Story and Science of the Reading Brain (New York: Harper Collins, 2007); see generally Stanislas Dehaene, Reading in the Brain: the science and evolution of a human invention (New York: Viking, 2009).
[8] Our World was an initial live international satellite television production broadcast on 25 June 1967. Nineteen nations were represented in separate segments featuring their respective countries. An estimated 400 to 700 million people watched. The Beatles performed "All You Need Is Love" at 8:54 G.M.T. on behalf of the United Kingdom. Marshall McLuhan preceded them at 7:17 G.M.T. on behalf of Canada from CBC studios in Toronto.
[9] See e.g. Derrick de Kerckhove, "McLuhan and the "Toronto School of Communication"" (1989) 14:4 Canadian Journal of Communication 73.
[10] Canadian Broadcasting Corporation, "Communication via the Internet" (8 May 1966) at 00h:00m:00s, online (video): Marshall McLuhan Speaks Special Collection <http://www.marshallmcluhanspeaks.com/prophecies/1966-communication-via-the-internet/index.html&gt; [perma.cc/DD5B-EAW8] (The Internet was initially run through telephone cables into homes when Jeff Bezos founded Amazon.com, Inc. on July 5, 1994). See especially Eric McLuhan, "On Formal Cause" (2005) 4:3/4 Explorations in Media Ecology 181.
[11] The government of China was first to formally classify Internet addiction as a clinical disorder in 2008; see William M. McDonald et al, "Electroconvulsive Therapy in China" (2012) 28:4 The Journal of ECT 206. In contradistinction, neither by the World Health Organization nor by the American Psychiatric Association has excessive Internet use been recognized as a disorder and Canada has followed suit; see World Health Organization, The World Health Report 2001, Mental Health: New Understanding, New Hope (France: World Health Organization, 2001); see American Psychiatric Association, Diagnostic and Statistical Manual of Mental Disorders, Fifth Edition (Washington: American Psychiatric Association Publishing, 2013); see The Standing Senate Committee on Social Affairs, Science and Technology, Out of the shadows at last: transforming mental health, mental illness and addiction services in Canada, (Ottawa: The Committee, 2 May 2006).
[12] Marshall McLuhan, "Canada: The Borderline Case" in David Staines, ed, The Canadian Imagination (Cambridge, Mass.: Harvard University Press, 1977) at 226.
[13] Understanding Media, supra note 6 at 3: "Today, after more than a century of electric technology, we have extended our central nervous system itself in a global embrace, abolishing both space and time as far as our planet is concerned."
[14] See generally Elaine B. Kahn, Interface: The Correspondence of Pierre Elliott Trudeau and H. Marshall McLuhan (1968-1980) (PhD Dissertation, The State University of New Jersey, 2017) [unpublished] (this merits more than passing reference but is not tenable in the confines of the blog post).
 https://tinyurl.com/umbhs3v)

University of Windsor School of Creative Arts
Filed under: Academic, Articles, Conferences, Education, Ideas, Media Ecology, New Media, Scholars, university
|
Leave a

Comment
Tags:
academic
,
articles
,
communication
,
conferences
,
culture
,
education
,
ideas
,
media ecology
,
university
Rossana Deerchild awarded the 2019 Medium and the Light Award by Howard Engel 
By Howard R. Engel 
The recipient of the eighth Medium and the Light Award, in recognition of the ecumenical dimensions of the life and work of Marshall McLuhan, was presented on Thursday, November 28 in Winnipeg, Manitoba as an integral part of the Symposium, "Winnipigeon Homecoming: Marshall McLuhan in Winnipeg". For the first time, the Medium in the Light Award, a glass obelisk "tetrad" hand-crafted each time by Matthew McMillan of Prairie Studio Glass is accompanied by a $1,000 prize. The Medium and the Light Award in particular and the entire Nov. 28 Symposium are underwritten by the Engel Family Fund at the Winnipeg Foundation.
Rosanna Deerchild is the recipient of this year's Award. She is a longtime storyteller, published author, poet, broadcaster and host of CBC Radio's Unreserved where she brings together Indigenous and non-Indigenous people alike the world over by reflecting the rich, diverse and life-supporting experiences of Indigenous peoples back to themselves and to the settler community. It is for this major contribution to bringing the whole people together in truth and reconciliation that she receives the 2019 Medium and the Light Award.
Rosanna Deerchild is a veteran broadcaster, having worked at APTN, CBC, Global and NCI-FM, where she hosted All My Relations. She has also hosted The (204) and the Weekend Morning Show on CBC Radio One and appeared on CBC Radio's DNTO. She is an award-winning author and poet. Her debut poetry collection this is a small northern town shares her reflections of growing up in a racially divided place. It won the 2009 Aqua Books Lansdowne Prize for Poetry. Her second book Calling Down the Sky is her mother's residential school survivor story. Rosanna is a co-founder and member of the Indigenous Writers Collective of Manitoba and has also contributed to numerous Indigenous newspapers.
A Cree from O-Pipon-Na-Piwan Cree Nation at South Indian Lake in northern Manitoba, Rosanna now lives and works in her found home of the North End of Winnipeg. (About Unreserved, see https://www.cbc.ca/radio/unreserved).
The Award is usually given annually by The Marshall McLuhan Initiative that was affiliated for its first decade (2007-2017) with St Paul's College, University of Manitoba, Winnipeg, Canada. The University of Manitoba is Marshall McLuhan's first post-secondary alma mater, where he earned the Gold Medal in Arts for 1933 and an M.A. in English literature (1934).
The inaugural award, in 2011, was presented to the late Fr. Pierre Babin, omi (1925-2012), in Lyons, France. The unique Medium and Light obelisk statuette representing the award was unveiled by Dr. Eric McLuhan during Toronto's McLuhan Centenary celebrations that summer. Originally conceived by the late Director of the Marshall McLuhan Initiative, Richard J. Osicki (1946-2012), and inspired by the book The Medium and the Light: Reflections on Religion by Marshall McLuhan and edited by Eric McLuhan and Jacek Szklarek (1999) was designed by The Initiative in collaboration with artist Matthew McMillan of Prairie Studio Glass, Winnipeg who uniquely recreates the glass obelisk for each year's recipient.
Filed under: Announcement, Award, Commentary, Press Release, Religion
|
Leave a

Comment
Tags:
articles
,
communication
,
culture
,
religion
,
university
,
Winnipeg

Bust of McLuhan by Madeleine Vrignon based on a 1935 photograph when he was 24
By Todd Lewys
It's a saying that we're all familiar with: "the medium is the message."
And while most Manitobans would recognize Marshall McLuhan as the author of the groundbreaking statement, they might not know he spent his formative years in Winnipeg.
It's only fitting, then, that the University of Manitoba graduate — who said technology would turn the world into a global village and who foresaw the formation of the world-wide-web — would be inducted into the WinnipegREALTORS® Citizens Hall of Fame in Marshall McLuhan Hall at the University of Manitoba on November 27.
As it turned out, the U of M was the launching point for McLuhan, who earned his [BA and] Masters in English Literature at the institution in 1934.
Shortly after, he left for England to continue his studies at the University of Cambridge.
After that, he taught English at universities in the U.S. and Canada before moving to the University of Toronto, where he taught media studies courses and wrote his seminal work, Understanding Media, in 1964.
"Marshall McLuhan was one of the most influential thinkers of the Twentieth Century," said Andrew Smith, Conservative MLA for Lagimodiere, who spoke on behalf of the Premier of Manitoba, Brian Pallister. "His ideas had a global reach and inspired so many people."
WinnipegREALTORS® president Kenneth Clark said that McLuhan — the 46th inductee to the Citizens Hall of Fame — was shaped by his time in Winnipeg.
"Stories have it that he would walk from his home on Gertrude Street through Osborne Village to the U of M campus, which in those days was on Broadway," he said. "His induction takes on a special impact here at the U of M in the room that was named after him."
Not only is the stately function room quietly spectacular with its glass and Tyndall stone walls, but so is the bust of McLuhan that was designed by Winnipeg-based sculpture specialist Madeleine Vrignon.
Taken from 1935 photo — she only had one image to work with — it perfectly captures the likeness of McLuhan, who was then in his early-to-mid-twenties.
"I think it's a magnificent job. I love the work and am proud to have this part of Marshall's life commemorated – it was just before he went to Cambridge," said McLuhan's son Michael, who flew in from Toronto to accept the 2019 Citizens Hall of Fame Award on his father's behalf. "It's also my first time in Marshall McLuhan Hall — it's very impressive."
McLuhan said his father would have appreciated the finely crafted sculpture and the 2019 Citizens Hall of Fame induction.
"He loved Winnipeg, and I know he would have been tickled pink to accept the award. It's too bad it took over 30 years to get here," he said with a laugh. "But better late than never. Thank you for this truly magnificent work, and the award."
Founded in 1986 by REALTOR® Harry De Leeuw in collaboration with former Winnipeg mayor Bill Norrie, the Citizens Hall of Fame recognizes Manitobans who contributed to Winnipeg's quality of life with exceptional achievements in leadership and community service. A link to all inductees, is available at winnipegrealtors.ca/community/citizens-hall-of-fame. (Source: https://tinyurl.com/rg63bcb)

Marshall McLuhan's son, Michael, talks about his father at the unveiling/induction ceremony held on Nov. 27/2019 in Marshall McLuhan Hall, at the University of Manitoba


WinnipegRealtors, in a news release, says McLuhan never forgot his roots in Winnipeg. He affectionately called Winnipeggers Winnipigeons. He wrote of the Western skies and horizons as one of the most beautiful things about the West. He spoke of how Winnipeg had a real human scale where the individual still has a significant dimension.
As McLuhan's biographer Philip Marchand said in the text for the Marshall McLuhan Hall plaque, McLuhan was the foremost commentator on media and communications of the twentieth century.
"Building on a solid foundation and fertile ground, which Winnipeg provided McLuhan up until he left to pursue higher education and his field of expertise, it should not come as a surprise to Winnipeggers how their city has been an incubator for truly amazing citizens who are exceptional in their body of work," says King. "Technology may be an enabler but McLuhan showed what the human mind is capable of producing and observing." Source: https://tinyurl.com/uhsp8vb
Michael McLuhan's Talk at the Symposium that Accompanied the Induction: "Some Things My Father Told Me"

Filed under: Articles, Award, Commentary, Education, Michael McLuhan, Press Release, Remembrance, university
|
2

Comments
Tags:
articles
,
biography
,
communication
,
conferences
,
culture
,
education
,
Winnipeg

Click on the image to expand the view
NOVEMBER 26, 2019 — A bronze bust of U of M alumnus Herbert Marshall McLuhan (1911-1980) will be unveiled at a special symposium and reception at U of M Archives & Special Collections on Thursday, Nov. 28 from 1 to 4 p.m.  The WinnipegREALTORS selected the communications giant as the 2019 Citizens Hall of Fame Inductee. 
Michael McLuhan, youngest son of Marshall McLuhan, will give an illustrated talk at the symposium about his father's Winnipeg roots.
Visitors are welcome to drop in and view the bust at the archives, where it will remain in the Archives until next year when Assiniboine Park will reconstitute the Walk of Fame, currently suspended by the construction of Canada's Diversity Gardens.
McLuhan's influence on ideas about communication and information is widely acknowledged; his concept of a "global village" created by technology predicted the World Wide Web almost 30 years before it was invented. His work heavily influenced many cultural thinkers and media theorists such as Neil Postman and Timothy Leary, as well as politicians such as Pierre Elliott Trudeau and artist Andy Warhol.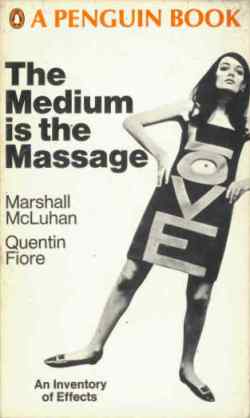 His phrase "the medium is the message" likewise revealed the intertwined relationship between technology and informational content. It was introduced in his 1964 book, Understanding Media: The Extensions of Man (1964). A later book, entitled The Medium is the Massage: An Inventory of Effects, was published in 1967; the changed title, said to be a printer's error, was embraced by McLuhan as a playful and generative extension of the original idea.
"The medium is the message. This is merely to say that the personal and social consequences of any medium – that is, of any extension of ourselves – result from the new scale that is introduced into our affairs by each extension of ourselves, or by any new technology". – Marshall McLuhan
THE 'WINNIPIGEON' COMES HOME
Born in Edmonton, McLuhan grew up in Winnipeg after his family moved here in 1915. Upon graduating with a Masters of Arts degree in English at the University of Manitoba in 1934, he went on to the University of Cambridge (U.K.)  to obtain a doctorate in 1943. He began teaching at the University of Toronto in 1946, where he remained for the rest of his career.
Some have argued that McLuhan's formative years in Winnipeg had a permanent effect on his thinking and writing. McLuhan converted to Roman Catholicism in 1937, and much has also been written about the influence of his faith on his views.
He always considered himself a Winnipegger. In a 1970 interview with CBC's Danny Finkleman, he said, "Let's remember some of our happy days out west! Now [that] they're having their centenary, why, we think happily of returning with rest of the Winnipigeons, flocking back to the old spot." The interview was published in the 1974 collection of interviews Speaking of Winnipeg.
McLuhan's roots in Winnipeg will be explored at the symposium this Thursday. All are welcome.
Exhibit of Winnipeg-related McLuhan archives and artifacts curated by Howard R. Engel and Shelley Sweeney.
MCLUHAN SYMPOSIUM PROGRAM
University of Manitoba Archives & Special Collections
1-1:30 PM Michael McLuhan, featured speaker, "Things My Father Told Me"
1:30-2:00 PM McLuhan Bust unveiling
Howard R. Engel & Esther G. Juce: Presentation of McLuhan nomination for Winnipeg Citizen's Hall of Fame
2-2:30 PM Jarrett Cole's documentary video on McLuhan's Winnipeg roots, Marshall McLuhan Lived Here.
2:30-3:00 PM Presentation of the Medium and the Light Award
3-3:30 PM Soft launch of McLuhan Faith and Works Conference Proceedings book, Of a Certain Winnipigeon and Religion: McLuhan's Faith & Works Conference Proceedings
3:30-4:00 PM Richard Altman's new abridged version of his avant-garde video McLuhan Unclaimed: I Am a Winnipigeon
4—5:30 PM Reception
Source: https://tinyurl.com/s34jwr5
The Winnipeg Realtors announcement of Marshall McLuhan's selection is here: https://tinyurl.com/wb4ybrw

University of Manitoba Graduate B.A. (1952), M.A. (1934)
Filed under: Announcement, Award, Biography, Commentary, Conferences, Press Release, Remembrance, university
|
Leave a

Comment
Tags:
biography
,
communication
,
conferences
,
culture
,
education
,
university
,
Winnipeg
Click on the image above for an expanded view
Marshall McLuhan was born at Edmonton, Alberta on 21 July 1911, he moved with his parents to Winnipeg in 1915. He attended Gladstone School, Earl Grey School and Kelvin Technical High School before enrolling in the University of Manitoba in 1928. He received a BA Honours in 1933 and an MA in 1934 before going on to study at the University of Cambridge.
The Winnipigeon Symposium Schedule
Date: Thursday, November 28, 2019
Time: 1:00pm – 5:30pm
Location: Archives & Special Collections, Elizabeth Dafoe Library, Fort Garry Campus  Archives 
FREE:  EVERYONE WELCOME
FEATURED SPEAKER:  Michael McLuhan, son of Marshall McLuhan "Some Things My Father Told Me"
The unveiling of Bust of Marshall McLuhan, 2019 Winnipeg Citizen's Hall of Fame Inductee
Documentary:  Jarrett Cole's:  Marshall McLuhan Lived Here.
Award Presentation:  The Medium and the Light Award
New Book announcement:  Of Religion and a Winnipegeon:  Proceedings of the McLuhan Faith & Works Conference at St.Paul's College, U of M, Oct. 2015
Movie Screening:  Richard Altman's:  McLuhan Unclaimed:  I am a Winnipigeon
Reception to follow until 5:30
University of Manitoba Archives & Special Collections
     330 Elizabeth Dafoe Library
MORE INFO:  archives@umanitoba.ca (204) 474 – 9986
Along with the program above, there will also be the unveiling of the Bust of Marshall McLuhan, and an announcement of his induction as the 2019 Winnipeg Citizen's Hall of Fame Inductee joining other notable Winnipegers like Terry Fox, John Hirsch, Nellie McClung, Gabrielle Roy, Carol Shields, and Sir William Stephenson. See https://tinyurl.com/vbp8rxg
University of Manitoba
Filed under: Announcement, Conferences, Education, Invitation, Library, Remembrance, university
|
Leave a

Comment
Tags:
communication
,
conferences
,
culture
,
education
,
Winnipeg

Canadian embassy's political & public affairs counselor Warren Mucci with Patricia Evangelista
You are invited to a special McLuhan event next Monday, NOV 18th, 6:00 – 8:00 PM at St. Michael's College/University of Toronto.

The Embassy of Canada in the Philippines, the Estate of Marshall McLuhan, the McLuhan Salons, and the Media Ethics Lab present: "Reporting the Voiceless: Mainstreaming Marginalized Issues in the Media", with the 2019 Marshall McLuhan Fellow – Philippines, Patricia Evangelista.
* * *
This year's McLuhan Fellow is Patricia Evangelista, multimedia journalist for the online news organization Rappler. Ms. Evangelista specializes in reporting disasters, conflicts, and development issues. She has also covered human rights-related stories, extra-judicial killings, and the long national campaign for the legislation of reproductive rights.

For her presentation in Canada, she has chosen the topic: "Reporting the voiceless: Mainstreaming marginalized issues in the media" in which she discusses her experiences in covering the various underreported issues in the Philippines, its implications on those in the margins, challenges, and efforts to bring to light the difficult and unpopular stories. Her discussion will also underline the significant role media play as a social conscience and one that influences public policy and action. Her presentation would also like to discuss the question: "In a time when human rights and other fundamental freedoms in the Philippines are under the spotlight, what should journalists do to responsibly communicate the stories of those in the margins?"

This event is presented as part of the McLuhan Salons series, in collaboration with the Media Ethics Lab, the Embassy of Canada in the Philippines and the Estate of Marshall McLuhan. The McLuhan Salon series is generously supported by the William and Nona Heaslip Foundation.

Introduction: Carlo Figueroa, Public Affairs Officer, Embassy of Canada in the Philippines. Special Guest: Michael McLuhan, Executor Marshall McLuhan Estate. Moderator: Paolo Granata, St. Michael's College, University of Toronto.
The event is free and open to the public. Space is limited, please RSVP.
Looking forward to seeing you there!
Monday, November 18th, 6:00 PM
St. Michael's College, University of Toronto (81 St Mary Street, Toronto)
Basilian Common Room, Brennan Hall (2nd floor, east side entrance)
Brennan Hall, St. Michael's College, University of Toronto
Filed under: Academic, Education, Ideas, Invitation, journalism, Lectures, McLuhan Salons, St Michael's College, university
|
Leave a

Comment
Tags:
academic
,
communication
,
culture
,
education
,
ideas
,
lectures
,
media
,
Toronto
,
university
Marshall McLuhan Teaching at the University of Michigan
David Bobbitt, Wesleyan College, (Published: December 30, 2011)
"After three thousand years of explosion, by means of fragmentary and mechanical technologies, the Western world is imploding" (McLuhan 3).1 With these words on the first page of Understanding Media published in 1964, Marshall McLuhan burst onto the intellectual scene with his most influential book. At the time the Commonweal Review called the book "infuriating, brilliant, and incoherent" (Gordon, "Critical Reception" 545). More recently, Nicholas Carr wrote that Understanding Media is "oracular, gnomic, and mind-bending" (1). Terrance Gordon argues that "Understanding Media occupies a central place in McLuhan's work" but also says that the book "defies summary" ("Editor's Introduction" xiii).
With its mosaic style Understanding Media is not an easy book to understand or to teach to students. I have been teaching Marshall McLuhan's Understanding Media to undergraduates for 18 years.2 When teaching major theorists such as McLuhan, I prefer to expose students to the original texts rather than distillations provided by another author whenever possible. This, of course, presents some difficulties in McLuhan's case because of his nonlinear style and the complexity of his ideas.
In this essay I will explain how I interpret McLuhan's Understanding Media to my students. This essay is more interpretative than pedagogical. If we understand what McLuhan is saying in this book and how he is saying it, we can make these ideas understandable to undergraduates. I impose some linearity and coherence on McLuhan by identifying the following four themes that run throughout Part I of the book: media as extensions of ourselves, hot and cold media, the reversal of the overheated medium, and antidotes to the narcotic effects of media. Then my students and I explore the application of these themes in Part II of Understanding Media as McLuhan discusses how his theories apply to specific media.
Media as Extensions of Ourselves
The core of McLuhan's theory, and the key idea to start with in explaining him, is his definition of media as extensions of ourselves. McLuhan writes: "It is the persistent theme of this book that all technologies are extensions of our physical and nervous systems to increase power and speed" (90) and, "Any extension, whether of skin, hand, or foot, affects the whole psychic and social complex. Some of the principle extensions, together with some of their psychic and social consequences, are studied in this book"(4). From the premise that media, or technologies (McLuhan's approach makes "media" and "technology" more or less synonymous terms), are extensions of some physical, social, psychological, or intellectual function of humans, flows all of McLuhan's subsequent ideas. Thus, the wheel extends our feet, the phone extends our voice, television extends our eyes and ears, the computer extends our brain, and electronic media, in general, extend our central nervous system.
In McLuhan's theory language too is a medium or technology (although one that does not require any physical object outside of ourselves) because it is an extension, or outering, of our inner thoughts, ideas, and feelings—that is, an extension of inner consciousness. McLuhan sees the enormous implications of the development of language for humans when he writes: "It is the extension of man in speech that enables the intellect to detach itself from the vastly wider reality. Without language . . . human intelligence would have remained totally involved in the objects of its attention" (79). Thus, spoken language is the key development in the evolution of human consciousness and culture and the medium from which subsequent technological extensions have evolved.
But recent extensions via electronic technology elevate the process of technological extension to a new level of significance: "Whereas all previous technology (save speech, itself) had, in effect, extended some part of our bodies, electricity may be said to have outered the central nervous system itself, including the brain" (247). Thus, pre-electric extensions are explosions of physical scale outward, while electronic technology is an inward implosion toward shared consciousness, a change that has significant implications. McLuhan states: "Our new electric technology that extends our senses and nerves in a global embrace has large implications for the future of language" (80). This electronic extension of consciousness is one about which McLuhan himself seems conflicted, as when he writes:
Rapidly, we approach the final phase of the extension of man—the technological simulation of consciousness, when the creative process of knowing will be collectively and corporately extended to the whole of human society, much as we have already extended our senses and nerves by the various media. Whether the extension of consciousness, so long sought by advertisers for specific products, will be 'a good thing' is a question that admits of a wide solution. (3-4)
Thus, it is incorrect to categorize McLuhan as either a technophile or a technophobe, as his critics often try to do. McLuhan is more interested in exploring the implications of our technological extensions than in classifying them as inherently "good" or "bad."
At times McLuhan speaks of a movement toward a global consciousness in positive terms, as when he writes: "might not our current translation of our entire lives into the spiritual form of information seem to make of the entire globe, and of the human family, a single consciousness?" (61). But at other times, he expresses reservations about this development: "With the arrival of electric technology, man extended, or set outside himself, a live model of the central nervous system itself. To the degree that this is so, it is a development that suggests a desperate and suicidal autoamputation . . ." (43). Thus, one of McLuhan's key concerns in Understanding Media is to examine and make us aware of the implications of the evolution toward the extension of collective human consciousness facilitated by electronic media…
Read the rest of this essay at http://enculturation.net/teaching-mcluhan
I recommend that instructors consider using the Critical Edition of Understanding Media, especially for graduate-level courses. It features an appendix that makes available for the first time the core of the research project that spawned the book and in which individual chapter notes are supported by a glossary of terms, indices of subjects, names, and works cited. There is also a complete bibliography of McLuhan's published works.
W. Terrence Gordon is Associate General Editor of the Gingko Press McLuhan publishing program, author of the biography Marshall McLuhan: Escape into Understanding and McLuhan for Beginners.
Filed under: Academic, Articles, Commentary, Education, Ideas, Media Ecology, Technology, Theory
|
Leave a

Comment
Tags:
academic
,
articles
,
communication
,
culture
,
education
,
ideas
,
media ecology
,
technology
Mark Kingwell
Mark Kingwell is a professor of philosophy at the University of Toronto.
More than five decades ago, Marshall McLuhan argued that media are ecosystems, extensions of human consciousness. The famous adage that the medium is the message also means, as the often-misquoted title of McLuhan's famous book notes, that the medium is the mass age. We are all immersed in media and technology.
Media have changed a lot since McLuhan wrote: less broadcast, more diffusion and unruliness. But his basic insights remain relevant.
The social media of today are "social" in only a very specific and narrow sense, and their effects on public discourse are mostly deleterious. Twitter, for example, is a force multiplier of disinformation, outright lies and escalating vitriol, especially as wielded by certain holders of high office.
Facebook, meanwhile, is a right-wing corporate entity that nevertheless parades itself as a champion of freedom. Media critic Jacob Silverman, writing this week in the digital magazine The Baffler, notes: "That [Facebook] has come to so thoroughly dominate our public sphere is a tragic indictment of American civic life and American techno-capitalism, which has confused the pitiless surveillance of today's internet with utopian empowerment."
Ouch. People may disagree with these judgments, but what stays constant is the need for critical reflection about how media work. As McLuhan himself noted, even the evolving skills of reading and writing are not, to paraphrase Winston Churchill, the end, or even the beginning of the end, of literacy. They are at most the end of the beginning.
Media literacy is therefore more urgent than ever in our day, as is the need for deeper forms of cultural and technological literacy. These are the real font of freedom and democracy, not any cozy relationship between Zuckerbergian bromides and anti-regulatory government feebleness.
I spent last weekend with colleagues at the University of Colorado discussing artificial intelligence and ethics. This may seem a long way from literacy, but as the discussions wound on, I realized that every aspect of our concerns, some fairly technical, were implicated in critical ideas about technology and society. This is the new techno-capital literacy, and we're all still learning it.
The Colorado project, STEM+C, works to integrate ethical and political concerns into AI and robotics curricula. The key word is "integrate." So far, my own experience with the ethics of AI has been that computer-science researchers too often view ethical issues as window dressing, hasty add-ons to help secure grant money. But this project is led by computer scientists, and its advisers include a skeptical law professor and a neo-Luddite philosopher (that would be me).
The initiative has unique properties. First, it's aimed not at high-school or college students but students in Grades 6, 7 and 8. Second, the main delivery vehicle for ethical discussion – the medium bearing the message – is storytelling.
As McLuhan would have confirmed, narrative is essential to understanding human consciousness. It might even be the basis of selfhood, a sense of identity over time. Certainly, stories are everywhere around us, from children's books to podcasts to the latest (two) winners of the Man Booker Prize. Narrative conveys ideas – and also shapes them. 
Read the rest at
https://tinyurl.com/yy43xcej
Filed under: Academic, AI, Articles, Commentary, Education, Future, Ideas, Media Ecology, Media Literacy, Technology
|
Leave a

Comment
Tags:
academic
,
articles
,
communication
,
culture
,
education
,
ideas
,
media ecology
,
technology
This is an article from the online version of a regional quarterly print publication titled "Watershed," which reflects on life in the Northumberland and Prince Edward Counties and the Bay of Quinte Region, east of Toronto, the beautifully-published version of which was brought to our attention by Andrew McLuhan who lives in Picton in Prince Edward County.
By Conrad Beaubien
Boxes of uncatalogued books, collected over Marshall McLuhan's lifetime of study and reflection, become the medium through which a grandfather relays his message to his grandson
AT THE BOTTOM OF WILD OAK LANE IN PRINCE EDWARD COUNTY, is a mailbox that sits on a well-wintered cedar pole. It's an everyday rural-style mailbox, painted in black enamel with a civic address cleanly set in white, Times New Roman font. Over time, the mailbox has become a symbol of communication, a basic need of humankind. Today, this particular mailbox serves as a visual reminder of the impact of communication on the world and the lifetime work of one individual – Herbert Marshall McLuhan.
A gravelled driveway rises from the main road, tunnels through shadows of older sugar maple trees, past a single storey, white frame house and then leads to a set of 19th century farm buildings. Within one of these buildings is a renovated space where Andrew McLuhan, Marshall McLuhan's grandson, is seated at a sturdy wooden refectory table. It is here where Andrew, in 2009, catalogued the working library of his grandfather. The extensive library, inherited by Andrew's father, had been stored here after Marshall McLuhan's death in 1980. The inner change precipitated by that one event fuels Andrew's efforts today.
Born in Edmonton, Marshall McLuhan is considered one of the leading communication theorists in the modern world. He studied how media, in all its forms, has the power to transform human consciousness, how communication tools affect our habits and our minds, and shapes our thoughts in sociology, art, science or religion. The Gutenberg Galaxy: The Making of Typographic Man, published in 1962, was the first of McLuhan's works to reflect on the transfer of ideas in society. In particular, Galaxy spoke to Johannes Gutenberg's invention of the printing press in the 15th century and how it spun the dial on the spread of knowledge.
Cataloguing McLuhan's book collection was a challenge for Andrew. "Up until that point, I didn't fully understand the true meaning of the pioneering work of my grandfather," Andrew offers. "I had no cataloguing experience and was guided by instinct." He set up a spread sheet and began the work. "The volumes had been sitting in random-sized cardboard boxes for years. They were in a range of condition – some with torn dust jackets and fragile bindings – dog-eared titles and signed first editions among the brand new. Others had excerpts from lectures: a note on Abbey Hoffman here, a letter to Marshall from Ezra Pond there," he lists. "I would absorb Marshall's abbreviated codes through osmosis. It became clear that if a book was in the boxes, it meant something to him and why he kept it," Andrew points out.
"Marshall McLuhan's coining of the phrase 'the medium is the message', his prediction of the coming of the internet and the idea of the global village seemed to be well understood, but I wasn't a schooled intellectual like my dad or my grandfather," Andrew discusses. He moves from his upright chair to a nearby wall where he takes down a small, hand-soldered copper frame. Under the glass is a strip of birch bark. The sepia-hued inner skin of the bark has a tight, handwritten notation in crisp black ink: Marshall McLuhan July 5 1931. "At the end of his first year of engineering at the University of Manitoba, he worked on a survey crew in northern Manitoba, but didn't return to engineering. He switched his area of study to English literature and philosophy. He said in later quotes that he began to 'read himself into literature'…investigation was for him," Andrew says. "He used that piece of bark as a bookmark. I found it between some pages in the process of my own discovery," he furthers…
Read the rest here https://tinyurl.com/yxt7yu2x

Eric McLuhan's, now Andrew's Working Scriptorium
Filed under: Articles, Commentary, Eric McLuhan, Magazine, Remembrance
|
Leave a

Comment
Tags:
Andrew McLuhan
,
articles
,
culture
,
Eric McLuhan
,
McLuhan
,
media
 Derrick de Kerckhove
This interview was published on a CD-ROM in 1996 titled Understanding McLuhan published by The Voyager Company. I have a copy of it but have lost the ability to look at it, as it requires Windows 3.11 or 95 neither of which I have any more in this era of Windows 10. Fortunately, the enterprising Clinton Ignatov does and posted the entire interview with Derrick de Kerckhove on his website (see https://tinyurl.com/yxlbpd3s). Thank you, Clinton.
Q: What influence has McLuhan had on you? Was there a flash when you realized the importance this man would have in your life or in the work that you would do?
A: Yes, the influence of McLuhan on me, and I am saying on me, not just my work, was pretty radical. Very strong, and very continuous. And it happened in stages, deepening stages. The first time was just coming into his room for the first class and being astounded at the completely different sound I was hearing here; the completely different kind of teaching I was getting here. Teaching—I am not even sure if the word applied. I didn't have any clue about gurus or the '60s. I didn't come from the '60s and I didn't go through the '60s revolution like an American would. I came from Europe. And though I met McLuhan in '68, at the time when Europe was going through a revolutionary stage "mai soixante-huit," and all that, I wasn't prepared for that at all. Because I was not in the fermentation period in Europe and I was not in the fermentation period in North America.
So, coming on McLuhan after having listened to Frye and to Robertson Davies and to French professors in the French department, was a radical departure. This man was a complete surprise. He was saying things which had an authority in them that carried some kind of persuasive power. And I was just very flabbergasted when I first heard him talk. I didn't understand anything. I didn't understand his method. All I knew was what he was talking about was worth paying attention to, and was worth working for—trying to understand what he had to say was really worthwhile. That's what I found in my first class.
I bungled along. I was one of his worst students. I got a C- in his class. I don't think he paid a whole lot of attention to me. Except that one day, a year after the first year. I came back for more, because I didn't understand anything in my first year. When I came back, I was one day standing here next to this table. And he had a paper in his hand from Le Monde. Le Monde Diplomatique—it was an issue. A special issue of Le Monde of Paris and there was an article of an interview of him, or something that had been translated about education. And he asked me—he had this very kind of autocratic way—he had inspirations and he would just, without considering anything else, would simply say "What if I would just follow up on my inspiration? Here is a French-speaking person who knows a bit of my work. Well let's see if this paper is well-translated." I mean, he could have very well had not done it, but he gave me this and said "Hey, you are—you speak French. You tell me what you think this is worth."
So I took it. And I must tell you that at that time I was really not at all cocksure about anything. So I would say, in fear and trembling, but I took the paper, I sat down and I began to read it and I found that there was lots of stuff in it that didn't seem to jive with what I understood. With what I was beginning to understand, because I can't claim I understood anything, really. But I pointed out three different areas in that paper which I didn't think were very well-translated and I said so to him.
He was sitting on that side of the table and he looked at me with genuine surprise. McLuhan never personalized his contact with anybody. Very few times do I remember when he actually noticed me as me. I was just another student. But he did look at me at that time and he said "Wow, you know my stuff!" And I said "Oh, I don't claim that at all, you know. Can I suggest an alternative for this, this is what I am saying."
He had a regal, another regal gesture. He turned to his collaborator on the book at that time, Barry Nevitt, and he said to Barry, "From now on de Kerckhove will be our translator." It was like being knighted, literally. It felt like the flat of a sword was hitting my shoulders. This didn't make me friends with his previous translator, who didn't like it one bit. We had even a discussion about whether, you know, one should translate the spirit of the letter. The man was a letter translator and I was a spirit translator. But that actually helped a lot. Translating McLuhan was an education to McLuhan that no other way could have given me… (Read the rest at https://tinyurl.com/yxlbpd3s).
Details of the content of the Understanding McLuhan CD-ROM are here: https://tinyurl.com/y52llhy2 
Filed under: Academic, Commentary, Education, Ideas, Interviews, Remembrance, university
|
Leave a

Comment
Tags:
academic
,
articles
,
communication
,
culture
,
education
,
ideas
,
interviews
,
media ecology
,
Toronto
,
university